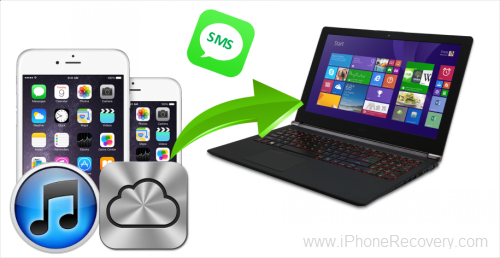 Q: How do I recover deleted text messages on my iPhone for free?
"Any way to recover deleted text messages on iPhone without backup free? I meant to delete one text message but ended up deleting the whole conversation. I use an iPhone X running iOS 13 . Tell me if you know how to do it."
Q: Is it possible to recover deleted text messages on iPhone 6s Plus?
"I knew there was a dedicated folder on iPhone for deleted photos. Is there such a thing for deleted text messages? I just wrongly deleted a few messages that were important for my business. I am wondering is it possible to get them back? Thanks."
iPhone messages matter a lot in our daily life and sometimes play an important role in court as evidence. However, what if you accidentally deleted iPhone SMS messages that contained valuable conversations? Don't worry. Here, we will show you how to recover deleted text messages on iPhone for free after mistaken operation, iOS upgrade, jailbreak failure or even iPhone got lost or stolen. Keep reading and learn 4 free and easy ways to retrieve deleted text messages from iPhone 12, iPhone 11, iPhone 11 Pro, iPhone 11 Pro Mac, iPhone XR/XS/XS Max/X/8/7/SE/6s/6 without backup, or from iTunes/iCloud backup.
All of these methods are covered in details below to help you restore your deleted iPhone text messages. If you lost or deleted some important iMessage from your iPhone and wish to get them back? Check out our previous post to learn how to recover deleted iMessages from iPhone/iPad.

Part 1. Why Are Deleted iPhone Text Messages Recoverable?
iPhone saves text message data (along with MMS and iMessages) on a database called SQLite. When you delete a specific message, it just changes from "Allocated" to "Unallocated", but leaves the actual message data sitting there. Some day, when you receive or send new texts, the space for the "Unallocated" entries will be firstly occupied and overwritten with new information. So, before your deleted text messages are overwritten by any new data, you still have chance to retrieve them back.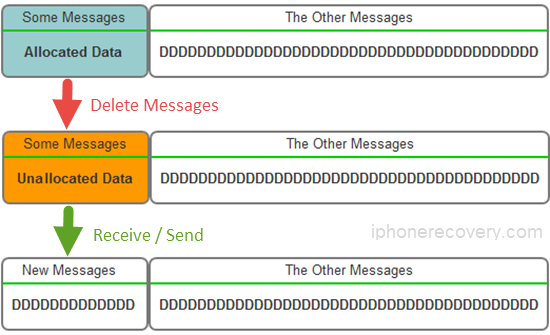 Therefore, you'd better stop using the Message APP and turn on airplane mode of your device before you take measures to reclaim the deleted texts.

Part 2. Retrieve Deleted Text Messages on iPhone without Backup
If you just deleted SMS on iPhone without backup, it is much safer to retrieve deleted text messages using third-party software which can access to iOS SQLite database. Google it, you will find many free iPhone Data Recovery software out there, claiming that they are able to recover lost data from iPhone. Among them, iPhone Data Recovery is highly recommended to save your deleted texts on iPhone, whether you have a backup or not.
It is a totally free yet useful iPhone SMS Recovery tool for almost all iPhone models running on iOS 12/12.4 or iOS 14. Using it, you can retrieve deleted text messages directly from iPhone without backup, or extract texts from iTunes/iCloud backup without restoring the whole backup. Not only text messages, it also supports to recover deleted contacts, call history, WhatsApp, Viber, notes, voice memos, Safari bookmarks, and much more data. Why not have a try?
Download and install the free iPhone recovery software to follow these steps:
Step 1: Run the free iPhone message recovery software and select "Messages" and "Message Attachments" on the first interface. Then click on Next.
Step 2: Connect your iPhone to PC and start to recover data from iPhone or iTunes backup. (If you don't have backup, it can retrieve SMS from the device directly.)
Step 3: Scan your iOS device/iTunes backup. Finally, you can selectively preview and recover deleted text message conversations.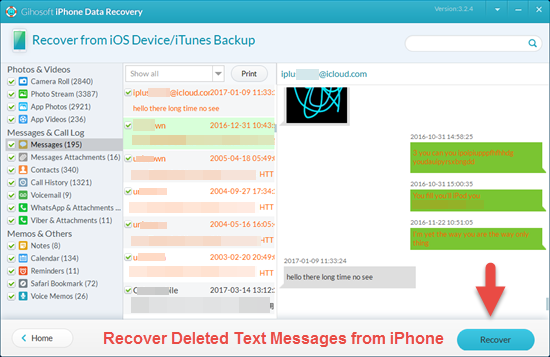 Part 3. Restore Text Messages from Previous iTunes Backup
If you regularly do backups through iTunes, you should have an iPhone backup stored on PC or Mac. However, it's not sure if the deleted texts are there in backup before you restore iTunes backup back to iPhone. As the hashed backup file 3d0d7e5fb2ce288813306e4d4636395e047a3d28 (that's SQLite Database) holds the messages, all you need is a third-party app like iPhone Recovery to extract and view the lost texts from it.
Steps to view and restore deleted texts from iTunes Backup:
First check if you have an available iTunes backup: Open iTunes > Edit > Preference > Device.
Back to iPhone Recovery software and check Messages & Messages Attachments.
Next, click on "View iTunes backup". All iTunes backups will be listed there, or you can also import from other folder. Select one to extract text messages.
After scanning, you will see all the message threads in details.
Find the deleted text messages to recover and save them onto computer.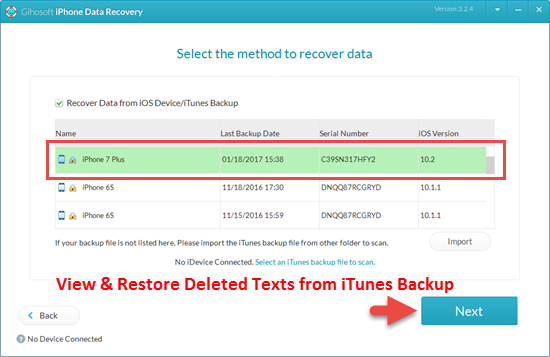 Of course, you can get back deleted text messages by restoring iPhone from iTunes backup. However, all existing texts and data on your iPhone will be replaced by those in the backup. If you are fine with this, just follow the steps below:
Connect your iPhone to the computer you have synced it with and open iTunes.
When your iPhone appears in iTunes, select Summary and click on "Restore Backup…".
Choose the iTunes backup that contains your deleted texts, then click "Restore".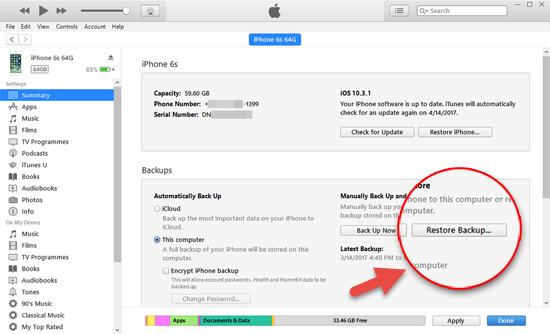 Part 4. Restore Texts from an Old iCloud Backup
If you have ever backed up your iPhone to iCloud, another easy way is to retrieve deleted text messages from the iCloud backup. First, you need to check if your deleted texts are backed up to iCloud, however. Otherwise, the former tutorial is the better way to restore deleted text messages on iPhone without backup.
Steps to view and extract deleted messages from iCloud Backup:
Make sure you have a recent iCloud backup. On your device, go to Settings > your name > iCloud > Manage Storage > Backups. You'll see the date and size of its latest backup.
Open the iPhone Recovery tool on PC and follow the onscreen steps. Click on "View iCloud Backup".
Sign in to iCloud with Apple id and password. Then select an iCloud backup to download.
Finally, extract and recover deleted messages from the iCloud backup.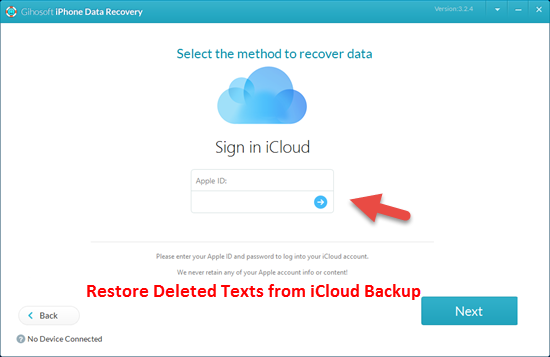 If the method above doesn't work, you can also try to completely restore iPhone from an old iCloud backup. However, you'll need to erase your iPhone and thus lose any data you've added since the backup. Here's how to do it:
On your iPhone, go to Settings > Tap on General > Choose Reset, then select "Erase All Content and Settings" to restore the device to factory settings.
In the popup, choose "Erase Now". (Don't choose "Backup Then Erase", or you will lose the previous backup and unable to recover the deleted text messages.)
Follow the setup instructions until you reach the Apps & Data screen, here choose "Restore from iCloud Backup".
Login to iCloud with your Apple ID and password, then choose the most recent backup and complete the restore process.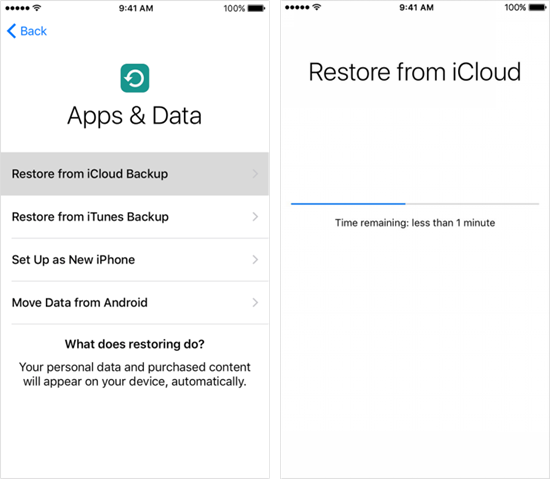 Part 5. Contact Your Service Provider to Recover Deleted Texts on iPhone
If above 3 methods of retrieving deleted text messages from iPhone didn't work, or you need to recover deleted text messages on iPhone without computer, don't fret, the last resort is to contact your cellular service provider. In some cases, they may keep a record of your recently sent and received messages, and you're entitled to access them to get back your deleted conversations.
YouTube Demo: How to Recover Deleted Texts Messages from iPhone For Free