Question: My little brother forgot iPhone passcode that he set on my iPhone 5. He entered the possible password several times, but now my iPhone is disabled. How to fix the disabled iPhone without losing data? Thanks in advance!
Answer: It is probably the most frustrating thing when you are completely locked out of iPhone. Forgetting iPhone password or Touch ID not working will both lock or disable iOS devices. The only way to unlock disabled/locked iPhone is to restore your device. Just follow these tutorials (which also work for disabled iPad and iPod Touch):
If you've synced your device with a trusted computer before, use iTunes.
If you remember your Apple ID and password, try Find My iPhone in iCloud.
If you've never synced your device or set up Find My iPhone, use Recovery Mode.
Unlock Disabled or Locked iPhone/iPad/iPod using iTunes
Provided that you've synced your device with iTunes before, you can reset your locked iPhone, iPad or iPod without losing data. You will need three things: the particular computer your device trusted or synced with, Free iPhone Recovery to extract and recover data from locked iPhone SE/6s/6/5s/5/5c/4s/4, and iTunes to erase your device.
Download and Run iPhone Recovery software on the computer.
Plug your locked iPhone or iPad into the PC. If the tool can't detect the device, try another computer you trusted or synced, or skip to use Recovery Mode.
Scan and recover data from locked iPhone or iPad, that is, backup data from locked device to computer in case that data gets lost when restoring your device.
Open iTunes. If asked to enter your passcode or trust this computer, please go to Find My iPhone in iCloud or use Recovery Mode.
Locate your device in summary. Sync with iTunes and make a backup.
Click on Restore iPhone (iPad or iPod touch) after sync and backup finished.
When asked to set up your device, choose "Restore from iTunes Backup".
Now, select your device in iTunes and choose recent backup to restore.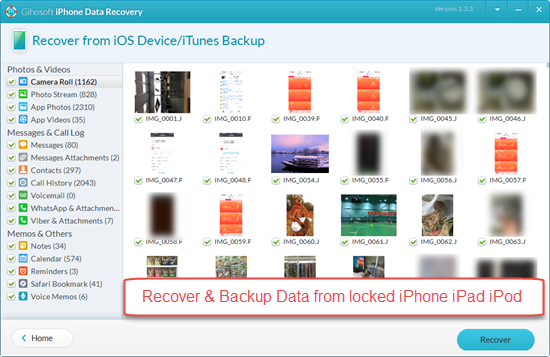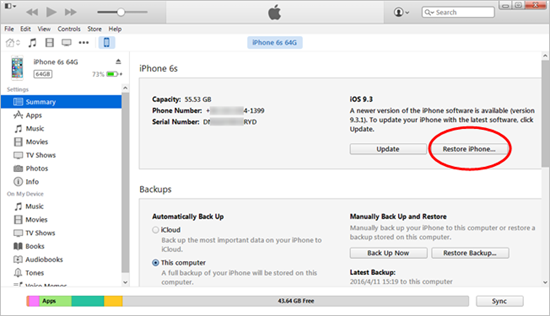 Unlock Disabled iPhone/iPad/iPod without iTunes through Find My iPhone
Supposing that you've enabled Find My iPhone in iCloud, then follow these steps to erase your device and passcode.
Go to icloud.com/#find from another device or computer.
If prompted, sign in with iCloud Apple ID.
Click All Devices at the top browse window.
Select device which you want to erase. If you can't find your device on the list, you should use Recovery Mode.
Click Erase iPhone (iPad or iPod touch) to remote wipe the device and its password. The device itself needs to be connected to network, or this won't work.
Now you can restore from a recent backup. If there is no backup, just check your iCloud Photos, Contacts, Notes etc before you set up as a new iPhone.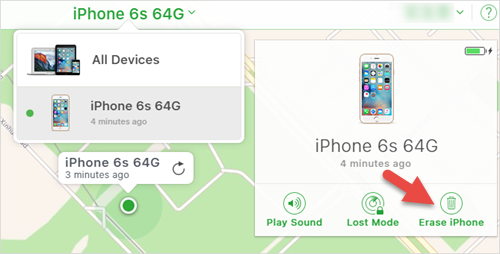 Fix Disabled or Locked iPhone/iPad/iPod with Recovery Mode
In case that you've never synced your iDevice with iTunes or set up of Find My iPhone, you should force your device into Recovery Mode to erase all content as well as its passcode.
Ensure that your device is not plugged into anything.
Hold down the sleep/wake button of iOS device, then "slide to power off" to turn off your iDevice.
Press and hold the home button while plugging iDevice back into the computer.
Keep holding the home button until you see the connect to iTunes Screen.
When you see the option to Restore or Update, choose Restore.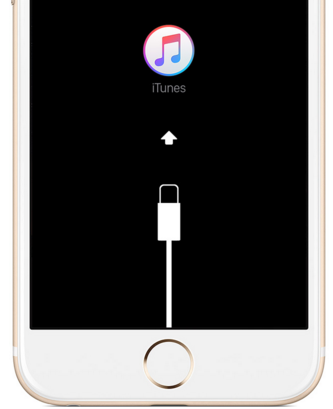 Note:
If the process starts downloading the update file and takes more than 15 minutes, your device will exit recovery mode and you'll need to repeat the procedure.
If you previously backed up your device with iTunes or iCloud, you can restore from the backup.