I created hundreds of notes in my iPhone in recent years, some of which are about my 5-year-old daughter. This morning when I woke up, and opened the Notes app, they all disappeared. It did not appear in the recently deleted folder, and restarting both my iPhone, iPad and laptop did not recover the file. I don't know if it's a bug or someone deleted the data. I can't seem to access notes from an iCloud backup, so does anyone know how I could possibly recover the data?
Note-taking apps now are a must for daily routines and activities. And the Notes app for iPhone and iPad is widely used by iOS users for various purposes. With this useful app, it is convenient for people to record important information, such as daily schedule, shopping list, checklists, sketches and drawings, accounts & passwords, etc. Sometimes you might delete important notes on your iPhone by accident, or perhaps you just found your iPhone notes disappeared for no reason. What should you do?
Luckily, you still have chances to get them back. This page offers 5 free and practical ways to recover deleted notes on iPhone 11/11 Pro/11 Pro Max, iPhone XS/XS Max/XR, iPhone X, iPhone 8/7/6s/6 Plus, iPad Pro, etc. Let's check them in details.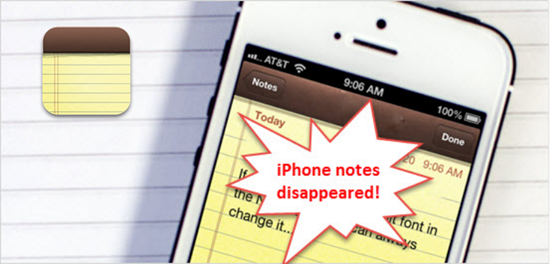 Why iPhone Notes Disappeared
There are several reasons why notes disappeared from iPhone. Some of the most common ones include:
Accidental deletion of notes without noticing
Data loss including notes caused by failure of iOS upgrade or jailbreak
Wrong setting of Email account you use to sync notes
Mistakenly restore iPhone to factory settings and erase all contents
Restore iPhone from a wrong iTunes/iCloud backup file
iPhone broken or water damaged, lost or stolen
You can try the following 5 methods according to your situation and see if any one of them works for you.
5 Free & Easy Ways to Retrieve Deleted or Lost Notes on iPhone or iPad
Way 1: Free Recover Notes on iPhone with Recently Deleted
If you accidentally delete notes on your iPhone, not to worry, the latest versions of the Notes app has a Recently Deleted folder. It will keep your deleted notes for 30 days. That means you can get deleted notes back whenever you want within 30 days. Here's how to recover deleted notes from "Recent Deleted" folder on iPhone if there is (only for iOS 9 or later):
Open the Notes app on your iPhone and tap the back arrow in the upper-left corner, then choose the "Recently Deleted" folder.
Tap "Edit" in the upper-right corner and select the notes you want to recover.
Tap "Move To…" in the bottom-left corner and select the folder that you want to move the notes back to.

Please note this method can only help you recover notes deleted from iPhone, but not deleted from the Recently Deleted folder. Also, it only works when you mistakenly delete a single note or several notes. If all your iPhone notes disappeared, you'd better rely on third-party data recovery tool introduced in Way 5.
Way 2: Free Recover Lost Notes on iPhone from iCloud.com
If the deleted notes are not found in the Recently Deleted folder, you can try to bring back your lost notes from iCloud, provided that you have created notes using your iCloud account. Here's how do to it:
Login to iCloud.com and click on the Notes icon. Check if your disappeared notes are in the iCloud Notes folder.
Now go back to your iPhone and tap on Settings > [your profile] > iCloud > Notes and toggle it on.
Open the Notes app and all the iCloud notes should appear.

Way 3: Free Recover Lost Notes on iPhone via Email Accounts
Instead of iCloud account, you may have created Notes using your other email accounts like Gmail or Yahoo account. In this case, your notes should be synced with that email account. Here's how to get back notes from email accounts with which you synced notes: Go to Settings > Passcodes & Accounts > Gmail (or other email) > turn Notes on. After that, the missing notes may come back to your iPhone.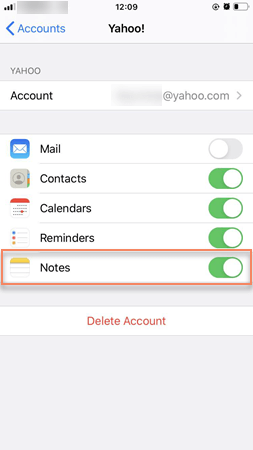 Way 4: Free Recover Deleted Notes with iTunes/iCloud Backup
When it comes to iPhone notes recovery, most of us might think of restoring iPhone from iCloud or iTunes backup. If you do have a recent backup file, you can recover any data including notes from it. But it may be risky to do that because:
You never know whether the iCloud or iTunes backup file contains the deleted notes or not.
This process will overwrite device and replace everything with the old data in backup file, which might result in more data loss.
Way 5: Free Recover Deleted Notes on iPhone without Backup
What if you don't have a backup of notes? Gihosoft Free iPhone Data Recovery makes iPhone notes recovery possible. It provides the best solution to recover deleted notes on iPhone with or without backup. It also enables you to retrieve contacts, text messages, call history, photos, videos, WhatsApp, Viber directly from iPhone, iPad, iTunes or iCloud backup. This recovery tool is compatible with the latest iOS devices and iOS versions, including iPhone 11/11 Pro and iOS 13. Just download and try it for free.
To Recover Disappeared or Lost Notes on iPhone/iPad without Backup:
Step 1: Launch the iPhone Notes Recovery freeware and ensure the Notes item is selected.
Step 2: Connect your device to the computer (if you iPhone is lost, just skip to the next and choose an iTunes backup file to scan).
Step 3: Scan and recover the deleted or disappeared notes directly from iPhone or iTunes backup if you have one in advance.