When your iPhone voicemail is full, others cannot leave a message for you. To avoid missing some important information, it is necessary to delete old messages. However, some users reported their voicemails have been deleted but it still says voicemail full on iPhone. Are you receiving the "Voicemail is 100% Full" warning on iPhone? If so, read on this article and find out how to get rid of the "iPhone Voicemail Full" trouble.
Part 1: Delete Voicemails When iPhone Says Voicemail is Full
Delete Voicemails on iPhone
When most people see the iPhone message that voicemail is full, the first thing that comes to mind is to delete old voicemail messages. It's quite easy to do that.
Head over to the Phone app > Voicemail.
Tap the Edit option, select the messages you no longer need, and then tap Delete.
Clear Deleted Voicemails
The voicemails you delete will be moved to the Deleted Messages folder and kept there for 30 days before being permanently deleted. You can check if there are any files left in the Deleted Messages folder and permanently delete them yourself.
Tap on the Phone app > Voicemail > Deleted Messages.
Tap the Clear All option, and then tap Clear All again to confirm.

Note: Don't forget to clear blocked voicemails. Blocked numbers can still leave messages in your inbox, which are collected in the Blocked Messages folder. They won't appear on your voicemail list, but they will take up space without your knowledge.
Part 2: How to Fix iPhone Voicemail Full After Deleting
Why is my iPhone voicemail full after deleting
In general, your voicemails will be saved in two locations: on your iPhone and on the network provider's server. Sometimes your iPhone can get a bad or missing connection with the server. In this case, the deleted voicemail on your iPhone may be not removed from the server. Thus, your iPhone says voicemail is full even though you deleted all stuff there. Another reason is that your iPhone doesn't correctly recognize the real voicemail storage space due to some unknown software glitches. In addition, server crashes or other errors also cause this problem.
6 solutions to iPhone says voicemail is full but it's not
1.Turn on Airplane Mode
As we mentioned in Part 1, the "iPhone Voicemail Full" error can be caused by the network issue, and the Airplane mode is one of the most common method to fix the network issue. So you can try to turn on Airplane mode on your iPhone and see if the problem is resolved. This way can also help you fix iPhone voicemail won't delete error.
Turn on the Airplane Mode in Settings or the Control Center.
Open the Phone app to delete the voicemails, and permanently clear them all in Deleted Messages folder.
Now turn off Airplane Mode.
2.Delete Voicemails from Server
If your iPhone voicemail is full but empty, it may because the your phone is out of sync with the carrier's voicemail server. To solve the problem, you can delete these voicemail messages from the server directly by following steps below.
Step 1: Tap on Settings > Phone > Change Voicemail Password, and enter a new voicemail password twice.
Step 2: Go to the Phone app > Keypad on your iPhone.
Step 3: Given that you are a Sprint user, dial your own number to access your voicemail. Alternatively, you can dial "*86" if you are using Verizon Wireless, or hold the "1" key if you are using AT&T and T-Mobile.
Step 4: When the prompt asks for voicemail password, do not enter it and just hang up. Sprint users should press "*" key during the voicemail greeting.
3.Reset Network Settings
Most users have got rid of the iPhone voicemail full problem through the third method. If you are still in trouble with this problem, you can reset the network settings on your iPhone.
Please note that this trick will remove all network settings and your login information related to network and return them to factory settings. So take down the login info beforehand.
Step 1: Tap on Settings > General > Reset > Reset Network Settings.
Step 2: If asked, enter your device passcode, and then tap Reset Network Settings to confirm.

4.Update Carrier Settings
A carrier settings update can be helpful if your iPhone says voicemail is full when it's not, though this method is not commonly used. Simply navigate to Settings > General > About. If there is an update available, you will get a message asking if you would like to update carrier settings. Tap Update to confirm.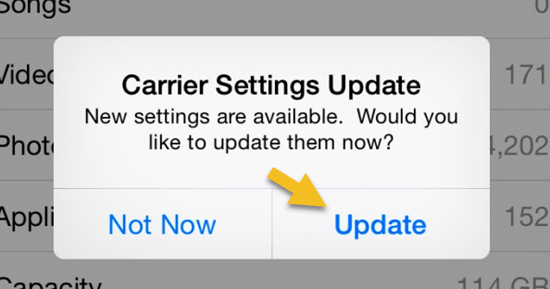 5.Update iOS Version
The latest iOS version comes with the latest features, security updates as well as bug fixes. So in case your problem is caused by some unknown software glitches which cannot be remedied by simply rebooting your iPhone, you can update your iPhone to the latest version of iOS and see if it empties your voicemail inbox.
6.Contact Your Network Provider
If you cannot handle the iPhone voicemail full problem yourself, you can contact your network provider (Verizon, AT&T, Sprint) for help. They will give you some useful suggestions or they can reset your voicemail box.
Bonus Tip: How to Recover Deleted Voicemail on iPhone
We delete our iPhone voicemails to free up more storage space. What if you've mistakenly deleted some important voicemail messages? You can, of course, restore your iPhone from a backup to get them back. However, this will erase and overwrite current data on your device. For those who don't want this to happen, using some third-party data recovery software is a good choice.
Gihosoft Free iPhone Data Recovery is a professional data recovery tool to recover all kinds of data from iOS devices directly, including voicemails, voice memos, text messages, contacts, WhatsApp messages, contacts, notes, Safari history, etc. It also enables data recovery from your iPhone backup without restoring your device. This program is compatible with the latest iOS version and iOS devices like iPhone 11, iPhone 11 Pro, iPhone XS/XS Max/XR.
Here's how to recover deleted voicemails on iPhone without backup:
Step 1: Launch the iPhone Data Recovery program on your computer, select Voicemail and click Next.
Step 2: Connect your iPhone to the computer via a USB cable. Once it is detected by the program, click Next to start scanning.
Step 3: When the scan is over, preview the scan result and find the voicemails you want. Then select and recover them to your computer.

Conclusion
Normally, all you have to do is delete old messages when iPhone says your voicemail is full. Nevertheless, sometimes due to the poor connection between your device and the server, or some other errors, you may still receive an alert that iPhone voicemail is full, even if your voicemail is empty. Then you can try the methods above one by one to see if any of them will solve your problem. BTW, if you accidentally deleted some important voicemails, you can use the Gihosoft iPhone Data Recovery to recover them.