"My iPhone screen faded to black slowly and wouldn't show again. I tried soft reset, letting it die then charging, update, didn't work. It is an iPhone 7 running on iOS 13.1.2. Is there anything your guys would recommend? Any help would be appreciated."
Have you ever run into the same annoying situation: your iPhone screen goes black and you can't access it to send texts or answer calls? Well, iPhone black screen is a common problem among iOS users, which can be caused by both hardware problems and software errors. Luckily, there is a variety of different things you can do to fix iPhone black screen of death and have your phone working normal again.
In this article, we will walk you through 5 potential troubleshooting fixes to iPhone black screen issue. These solutions can be applied to iPhone 11/11 Pro, iPhone XR/XS Max/XR, iPhone X/8/7/6s/6 stuck on black screen.
Let's check out!
Fix 1: Charge Your Battery
A drained battery can make your iPhone screen goes black. The solution is apparent – charge the battery of your iPhone. So before you tear down the web with searches for the best way to fix iPhone black screen, consider charging your device and ensure it has enough power.
The process is reasonably straightforward: Connect your iPhone to a power adapter, then press the "Home" button and wait for a few minutes until the charging battery icon appears.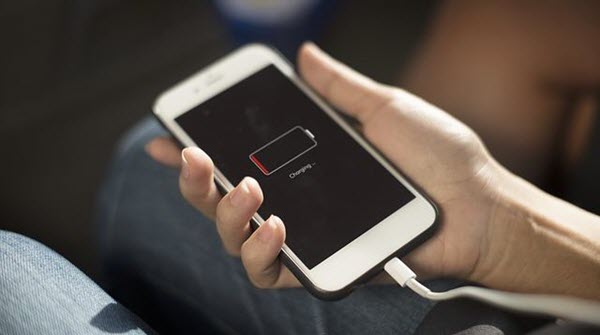 Fix 2: Close Crashed App
Sometimes, a crashed app can also cause your iPhone screen to go black. If iPhone screen stuck on black immediately after launching a particular app, then this app can can be the cause of the error. If you find yourself in such situation, here is what you should do:
For iPhone 8 or earlier, double-click the Home button to view recent apps. For iPhone X or later, swipe up from the bottom of the Home screen and slightly pause in the middle of the screen.
Swipe your screen left or right to locate the affected app. Then swipe up ion the app's preview to close it.
Now go back to the Home screen and launch that app again to see if the problem persists or not.

Fix 3: Force Restart Your iPhone
As with many other iOS issues, force restarting your iPhone can help to resolve the problem if your iPhone screen suddenly goes black. Here are the steps to force restart your iPhone:
For iPhone 8 and later: Press and release the volume up button. Then press and release the volume down button. Finally press and hold the side button until the Apple logo appears.
For iPhone 7/7 Plus: Press and hold the volume down button and the power button at the same time. Release both buttons until the Apple logo shows up.
For iPhone 6s and earlier: Press and hold the power button and Home button together at least for about 10 seconds, release them when the Apple logo appears.

Fix 4: Restore iPhone via iTunes
Restoring your iPhone via iTunes is another option you should consider when looking for ways to fix your iPhone screen black issues. Unfortunately, there is a catch – you stand the chance of losing all the data contained in your iPhone. So ensure you backup your device before you proceed.
Restore your iPhone via iTunes with these steps:
Connect your iPhone to the computer and launch iTunes. If you use a Mac with macOS Catalina 10.15, open Finder.
Locate your device and select it. Then head to Summary/General tab and click on "Restore iPhone…".
In the pop-up, click on "Restore" to confirm. iTunes or Finder will erase your device and fix iPhone black screen of death error.

Fix 5: Contact Apple Store
If all the solutions mentioned above failed to fix your iPhone black screen error, then faulty hardware might be the cause. In situations like this, there is little you can do, and your best bet is to contact the nearest Apple Store and ask their assistance. If your iPhone is still within its warranty, you can have it fixed by mobile hardware specialists.
Bonus: Recover Data from iPhone after Fixing Black Screen
You may also suffer from data loss problem in the process of fixing the iPhone black screen of death. So is is highly recommended to back up your iPhone regularly. If unfortunately, you lost important data and there is no backup available, don't panic. It's not the end. There are some ways you can try to get your lost data back.
Gihosoft Free iPhone Data Recovery is a profession tool that can help you recover deleted or lost data from iPhone/iPad without backup. Using it, you can recover deleted iMessages, text messages, contacts, photos, WhatsApp, notes, and more data. It is incredibly easy to use and ensures a higher success rate. This freeware also works on all the latest iOS devices and iOS versions, including iPhone 11/11 Pro and iOS 13.
Once your iPhone black screen error has been fixed, follow the simple steps below to recover your lost data:
Step 1: Download, install and launch this free iPhone Recovery software on your computer. In the main screen, select the files that you want to recover (untick those you don't need).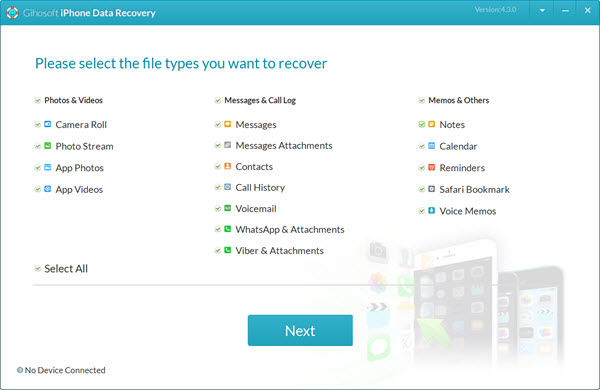 Step 2: Click "Next" and connect your iPhone to the computer using USB cable. Once your device is detected, click "Next" again and the program will start scanning the connected device or the iTunes backup if found.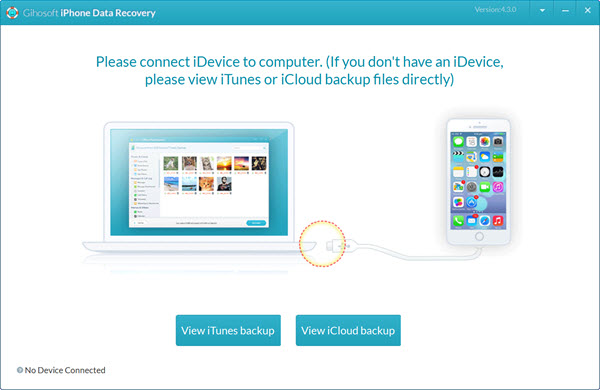 Step 3: After scanning, all recoverable files will be displayed by categories. You can preview them in details and marks those you need, then click the "Recover" button to export and save them to your computer.
Upon the completion of the recovery process, you'll be prompted to the exported folder where all the files are saved. To view and print text data, double click the last file – index.html. Please keep in mind that you should perform the recovery as soon as possible when you found data loss. Otherwise, the deleted or lost data might be overwritten and become unrecoverable.