I did the latest update two days ago and now I have contacts that are missing. Help!!
There is a (maybe several) good reason that a lot of iPhone users are hesitating upgrading their devices to the latest iOS system. There are always new features that rock our world after each iOS releases. However, you may notice that some data got lost, especially iPhone Contacts disappeared, after you eagerly upgrade your device. Just read on. Here are several ways you can fix those problems.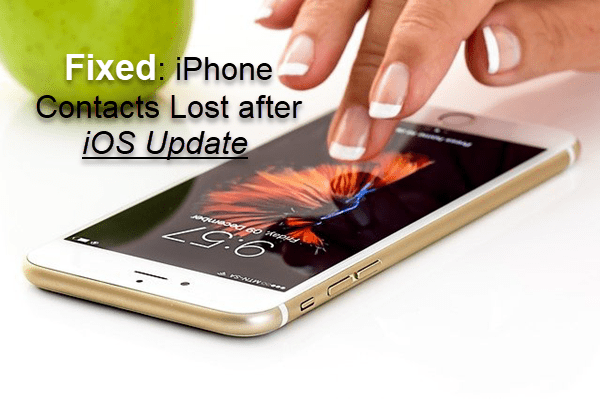 Solution 1: Use iCloud Setting to Recover Lost Contacts after iOS Update
Some people prefer to use iCloud over iTunes now, because iCloud makes stuff easier to manage. Provided you have enabled iCloud Contacts sync before iOS update, you can recover iPhone lost contacts by using iCloud setting:
Sign in to iCloud.com in a web browser on PC.
Click "Settings" and scroll down to "Advanced" section.
Click "Restore Contacts" under "Advanced".
Click "Restore" next to the date before you updated iOS. After the restore completes, it will inform you of the result and send you a report email.

More Tricks: How to Restore Contacts on iPhone for free
Solution 2: Restore Everything from iTunes Backup after iOS Upgrade
If you have been backing up your iOS device with iTunes regularly, you should be able to restore your lost contacts and other data from a recent backup after iOS update:
Connect your iPhone to your computer and open iTunes.
Bring up the Summary for your iPhone and check the date of "Latest Backup".
Select "Restore Backup" – this will replace everything on your iPhone with that from the backup.

Solution 3: Recover Lost iPhone Data with Freeware after iOS Update
As always, there is the alternative of using third-party software to solve those problems and one such program called Free iPhone Recovery is highly recommended. It is a data recovery software which can recover contacts, photos, text messages and more than 16 types of files from your iPhone or iPad. Just download and install it to retrieve the lost contacts and other data caused by iOS 9, iOS 10 update.
Open the freeware and select the types of data you want.
Connect your iDevice to PC and begin to scan data from device or iTunes backup.
After the Scanning, preview and selectively recover the lost data.